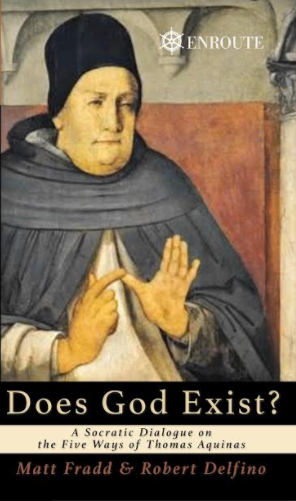 CONTEST RULES!
Matt Fradd just released his new book, penned with Robert Delfino, entitled, "Does God Exist? A Socratic Dialogue on the Five Ways of Thomas Aquinas". It's a great walk through the five ways and draws from a lot of Fradd's experience debating atheists.
Matt called me (well, Marco Polo'd me) and said his publisher is willing to give out 10 copies to 10 winners. BUT they must be in the continental United States (sorry European listeners!) and you must do the following:
Contest
Tweet or post on Facebook a link to a past episode of Catching Foxes you liked
Use the hashtag "3outof5" so we can find it. Tagging Catching Foxes on FB or Twitter helps!
Post between March 9-16
Luke and I will tally up all the entries and select 10 winners at random.
You will be announced and contacted by the 23rd to get your shipping address
The publisher, Enroute Books & Media, will send it directly to you
Rules
No purchase necessary
Void where prohibited
US Residents only (the lower 48, not the freak states, Alaska and Hawaii)
Must be posted between Friday, March 9 at 6:01am Eastern Time to Friday March 16 at 11:59pm
If you already posted something, you can repost it again with the new hashtag
What is the deal with that Hastag?
It comes from a reviewer on iTunes who was trying to be clever and said: "3 out of 5 couldn't catch these foxes". So, awkward and hilarious as that was, we decided to own it and celebrate it.